Tour Diary, Friday 03/10/2023-Saturday 03/11/2023
This weekend was a rollercoaster. We'd been planning this little mini-tour up the coast with our friend Doug Schmude for a while and we were really looking forward to it. The weekend did not go exactly 100% as planned, but really these things never do and in the end we had a great time and played some great shows and that's all that matters.
Doug picks us up around 8:30 on Friday morning. We toss our guitars and luggage and such in the back of his SUV thing and hit the road. It's raining. This will be important later. We luckily don't hit too much traffic and we make really good time, even though it's raining. And raining. And raining. We're not really worried about any of it; we don't have to be at the Lost Chord in Solvang for sound check until 5:00 and it's really only a 3-ish hour drive away.
We stop in Summerland for lunch at one of my favorite places, the Summerland Beach Cafe. It's a kind of quaint old house turned into a restaurant. Jonathan Winters used to hang out there a lot and the food is good. It's pouring, but we find close parking, so it's not that big a deal. We get to Solvang around 2pm and it is still raining (are you sensing a theme?).
Solvang is an adorable little town that was initially founded by Danish folks and most of it's economy is tourism; people coming to enjoy the quaint buildings, bakeries that sell Danish cookies and pastries, and wine tasting. We're staying at the Viking Inn and they're nice enough to let us check in early. The room is small but nice and clean and quaint like the rest of the town. Once we get all five guitars in there though, it does feel a little cozy. 

We go for a walk with our umbrellas and the normally pretty full streets of the tourist areas of Solvang are basically empty. Not a great sign. Ron ends up buying a new hat at the leather shop in town, because sometimes you just need a new hat. The rain is tapering off a little bit. We go back to the hotel and I am going to lie down a bit before sound check, because I have a little headache. 
Doug goes out to get a snack but comes back not three minutes later with bad news. He's gotten email from the venue that with the weather being what it is, they are going to cancel the show. We're heart-broken. All I've ever heard is great things about Lost Chord, so I've been super excited to play there. Doug emails the owner and after a little bit of back and forth, and because the rain is clearing up, he agrees to have the show back on. Soundcheck is a little delayed but other than that we're ready to go.
The room sounds amazing. Chris, the owner, designs sound studios for a living and he's designed Lost Chord specifically for sound and he's done a perfect job. And Ben, the sound guy, is absolutely fantastic at his job as well. Lost Chord has to be one of the best-sounding rooms I've ever played. They also have a nice little green room for us with a kettle and tea, and if you want to make me happy, offer me a cup of tea. (We also managed to get locked into the green room by accident for about five minutes which was fun.) There are some absolutely gorgeous guitars on the wall that I want to play but am simultaneously afraid to touch, so I don't even ask.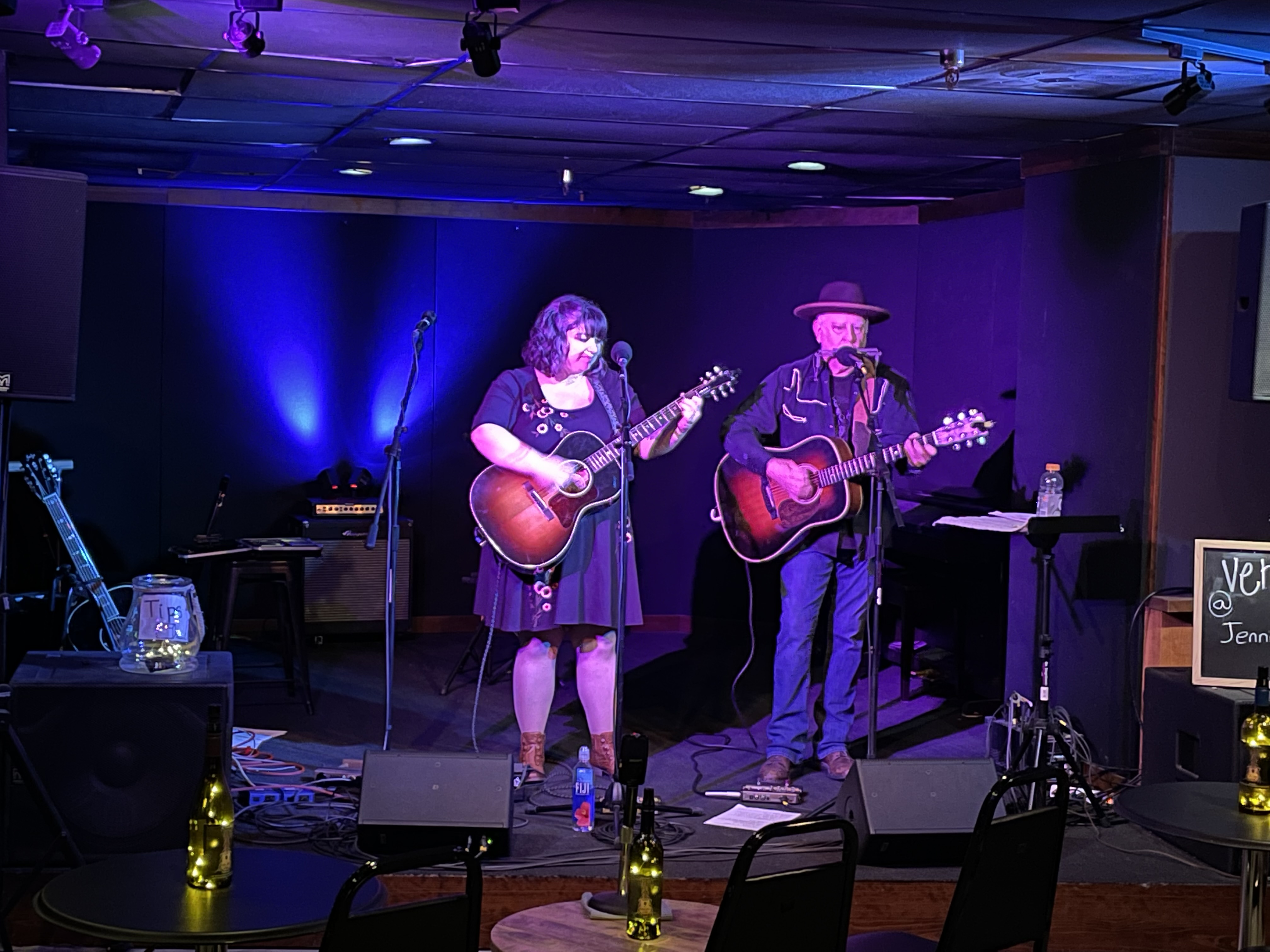 We play the first set and it goes pretty well. There's a steady stream of people coming in and out, probably a total crowd of 20 or 25ish people throughout the night. That's not bad for a rainy day in California. Everyone is into the music though. It's definitely a listening room, even though there's a bar and a little bit of talking from the audience. (Fun fact: Dave, the bartender for the night, is also the mayor of the nearby city of Buellton.) Doug and plays dobro with us on Water's Edge, which is quickly becoming one of my favorite things. Water's Edge is probably my favorite song we do and the dobro just adds so much to it.
Doug plays his set next and of course he's just as great as he always is. It's a treat to listen to him. I love how different our songs are but how we both still make sense on the same bill. We play our last set together and Sadie the dog, who is apparently a regular at Lost Chord keeps running up onto stage, which we are told means she likes our music. It is distracting in the best way possible. We play some of Doug's songs and some of our songs all together and we close out the night with "Return of the Grievous Angel."
After we're done packing up and loading out it's almost midnight. We are starving, because we didn't get a chance to eat before playing, aside from some random snacks. And very little is open in Solvang after around 9pm. We get two recommendations--trying a saloon that's open late that might have a late night kitchen or going to the nearby casino food court. The saloon is a bust; the second we walk up we can see it's more of a party/dancing bar than like a pub or something. The kitchen is closed so unless we want a liquid dinner, it's off to the casino, where we eat okay-but-not great pizza, but we don't care because it is hot food. We head back to the hotel and collapse into bed, exhausted, but in the good way that comes from playing a good show.
We wake up late-ish on Saturday morning and eat breakfast at Paula's Pancake House, which has the best Danish pancakes and is Ron's favorite place to eat in Solvang. Then we get on the road to Ventura. The day is a little cloudy, but it's not raining. But there was a mudslide on 101 and part of it is down to one lane, so we follow GPS and go up in the hills through Ojai. It's longer distance-wise, but faster. We stop in Ojai, which is a cool little town with a pretty good art and music scene. We walk around for a bit and stop in to talk to some venues that might be interested in having us play there. It's easier to make these connections in person.
Then I see an email from NAMBA, which is the venue where we're supposed to play Saturday night. They haven't sold many tickets and are thinking of cancelling the show. I laugh because if I don't I will cry, and then I tell Doug and Ron the situation. I call Doc, who booked us and we talk a little bit about what we've done to promote the show--Ron and I had driven to Ventura last week to put up fliers and I'd posted about it on all our social media and our mailing list. They agree to let us continue and we just have to hope for some walkups.
NAMBA is a cool space. It's a non-profit that hosts all kinds of performance arts, from dance to improv to youth theatre to music performances and they even have classes for the community. Ron and I start having major theatre flashbacks because there's an actual "backstage" with curtains blocking the audience and a green room with makeup mirrors and random cue sheets left over from another performance. 
Gavin, who is running our sound and lights is great and like the Lost Chord, NAMBA is a great-sounding space. We end up with about seven people attending, which is not a ton, but I tell Tamara, the director, that we will give them the best show we can. You always play to who is there and give it your all. I'll take a tiny but engaged audience over large but not paying attention any day. She seems happy with that and then says that they do like education as part of the program so if we could talk about our music and influences that would be great.
Doug plays first this time and even though they're quiet, I can tell they're into him. He has someone come up and play Vibraslap for him during "All Along the Watchtower" and the guy is totally a good sport about it. 
We play next and again, it's a quiet house, but a friendly one. Now that I'm not backstage, I can see the smiling faces and the toes tapping. They're treating it more like a theatre performance and that's okay. We get a few laughs when we make some of our jokes and I tell the longer story behind Jenny Lynn about Hans Christian Anderson and his unrequited love and I talk about Gram Parsons. Someone in the audience actually knows the song "Sylvia's Mother" and knows that Shel Silverstein wrote the lyrics. So this audience is definitely our people.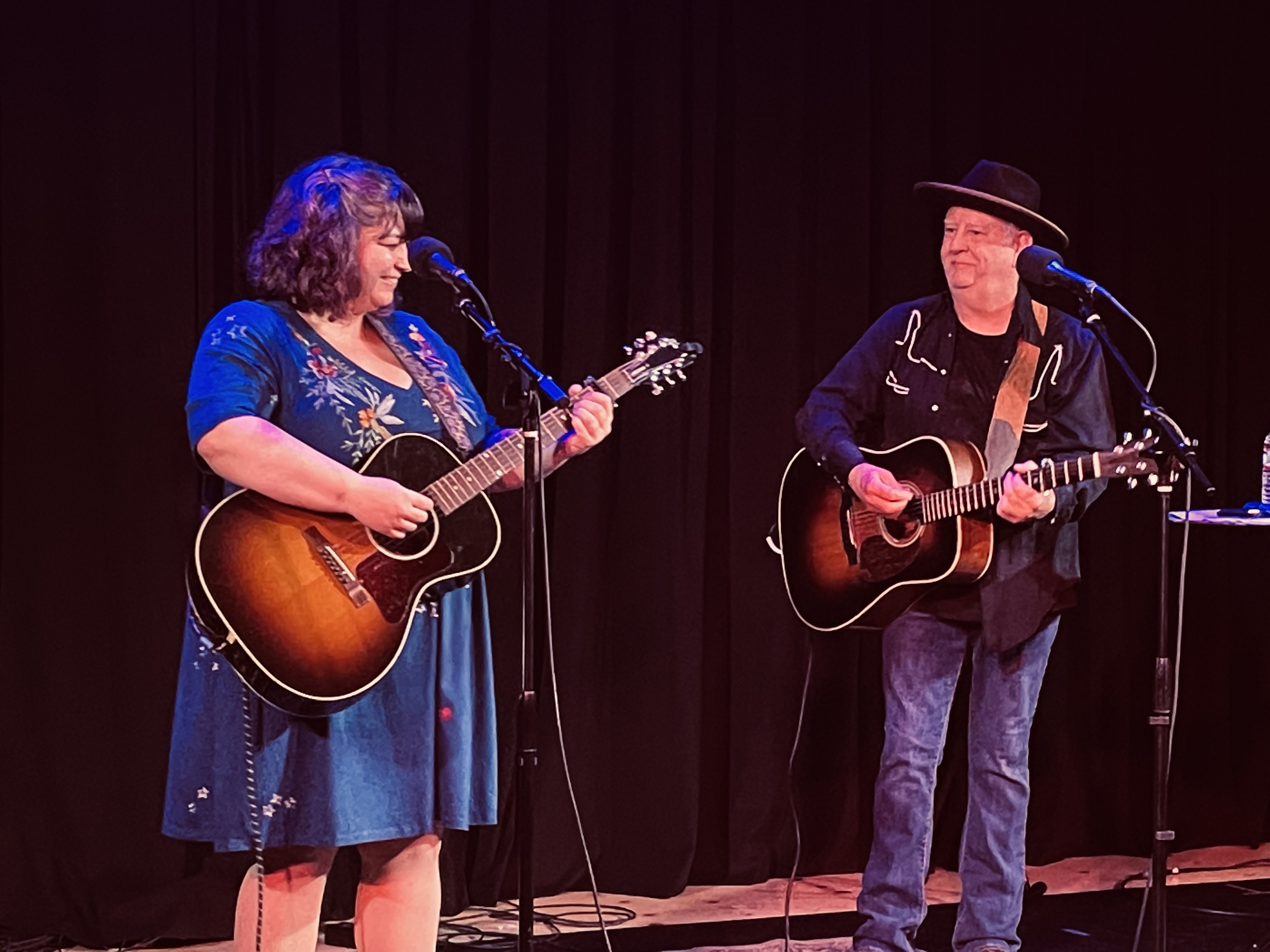 Once again we're starving after we load out. We decide we need a rule that we have got to be better about eating before the shows. We find a pub that is serving food and have Irish pub food, whiskey (me and Ron) and Guinness (Doug). Now that the weekend is over, we can't stop laughing about all the stress, how both shows went from cancelled to uncancelled so quickly and the emotional whiplash. We are so grateful in both cases that we got to perform and we had a great time both times. Doug drives us home, we unload all our stuff from his car, and we get into bed just a little before the clocks spring forward for daylight savings time.