We've been busy the past few weeks.  It's been a lot of work to finalize our album--listening to the masters to make sure that everything is as good as we want it to be, finalizing the artwork, making sure the printer/duplication has everything they need, setting up a pre-sale (working on it!)...This is the first time we've ever put out an album and it still feels like we are flying by the seat of our pants
Of course, we've been really, really lucky to have a lot of guidance and mentoring from Bobbo Byrnes, who is one of the most generous and talented musicians in Orange County.  Seriously, if you haven't already, go listen to what he does both solo and as part of his band The Fallen Stars.  It's awesome.  (He also was our recording engineer/producer which is probably a big part of why our album sounds so good).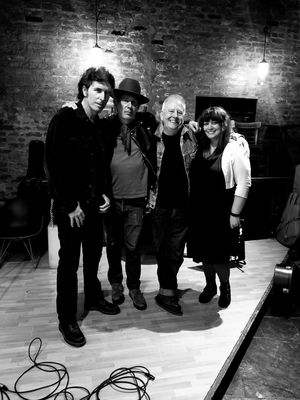 We've also been playing some shows.  We played a gig at Michael Ubaldini's Outlaws of Folk Series.  We'd never played as part of this and it was a new venue for us as well.  I can't speak for Ron, but no matter how much I do this, I always feel a little bit of trepidation playing in a new venue, outside of the "bubble" where we usually play.  I get a little nervous about fitting the "mood" (for lack of a better term) of the place.  But of course everyone was super cool and talented (check out Mark Huff and The Pollen Collective), like they always are.  It's just funny what sticks with you and what you can't let go of as a performer, even after years of doing it.
We have one more show coming up tomorrow (February 8) at the Beach Hut in Huntington Beach, a showcase hosted by Chris Cruz.  See our shows page for more details on that.  Then we have our album release party coming up February 22nd!  We want to see you all there!