Wouldn't you know it, we release an album, go on a little vacation, and then the world goes to hell.  Like everyone, we've been laying low since the pandemic started.  I work in healthcare so I've been going to work every day like normal, except I'm busier and working long and weird hours.  Ron is in multiple high-risk groups, so he's been staying home.  We were really sad when the Tucson Folk Festival was cancelled and so were any potential future gigs.  We've done a few livestreams on Facebook, including one with our friends The Fallen Stars where we were able to raise over $500 dollars for BEAM, which was awesome.  But even so, it's difficult to play on a livestream.  It feels a little like you're playing into the void.  A big part of live performance is that connection with the audience, even if you're fighting with the football game or espresso machine in the background.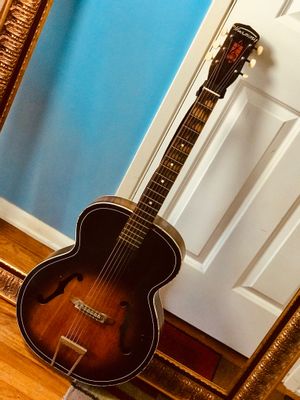 Moving on to happier things, I bought a really cool guitar (pictured above) and it sounds fantastic.  I don't really know a lot about guitars.  I just know whether I like how something sounds and how something feels when I'm playing it.  And I know I like how this guitar sounds especially with Ron's guitar.  There's a bit of learning curve for me with it because it's got a bigger neck than I'm used to.  I'm very used to the little Martin guitar I've been playing for years, so...practicing (which I always need to do more of anyway).  We're also working on some new songs because once this whole thing is over (whenever the heck that is), we are itching to get back out to play live and to record some more and we would love to have new material worked out.
Stay safe out there (or rather in there) everyone.  Wear your masks.  Check in on your friends.  We'll see you when this is over.