This is a few days after the fact, because this is how long it's taken me to recover from the travel. It was a crazy few days. I'm just gonna take it day by day.
On Wednesday the 8th we play a 30-minute set at the Mamba in Huntington Beach. The place is more crowded than it usually is on a Wednesday night; there are a ton of folks playing pool. It's a good crowd; even though they aren't really there for the music they're enjoying it. If you can't play a listening room, a loud venue where people are digging your music is the next best thing.
But I am exhausted at this show. I had worked an overnight shift the night before and am light on sleep. It can be hard to find the energy to perform when you're underslept, but "finding the energy to perform when you're tired as heck" was kind of the theme of this weekend.
Thursday night the 9th we open Bobbo's CD Release Party at The Harp Inn Irish Pub in Costa Mesa. It's a great night! There are cookies and a great crowd. We play a bunch of our originals and Tracy makes us a visual journal of our setlist, which is the coolest thing ever. I don't know why it tickles me so much, except that I'm not really a visual person, I am a words person, and I am always impressed by people who can express things through visuals.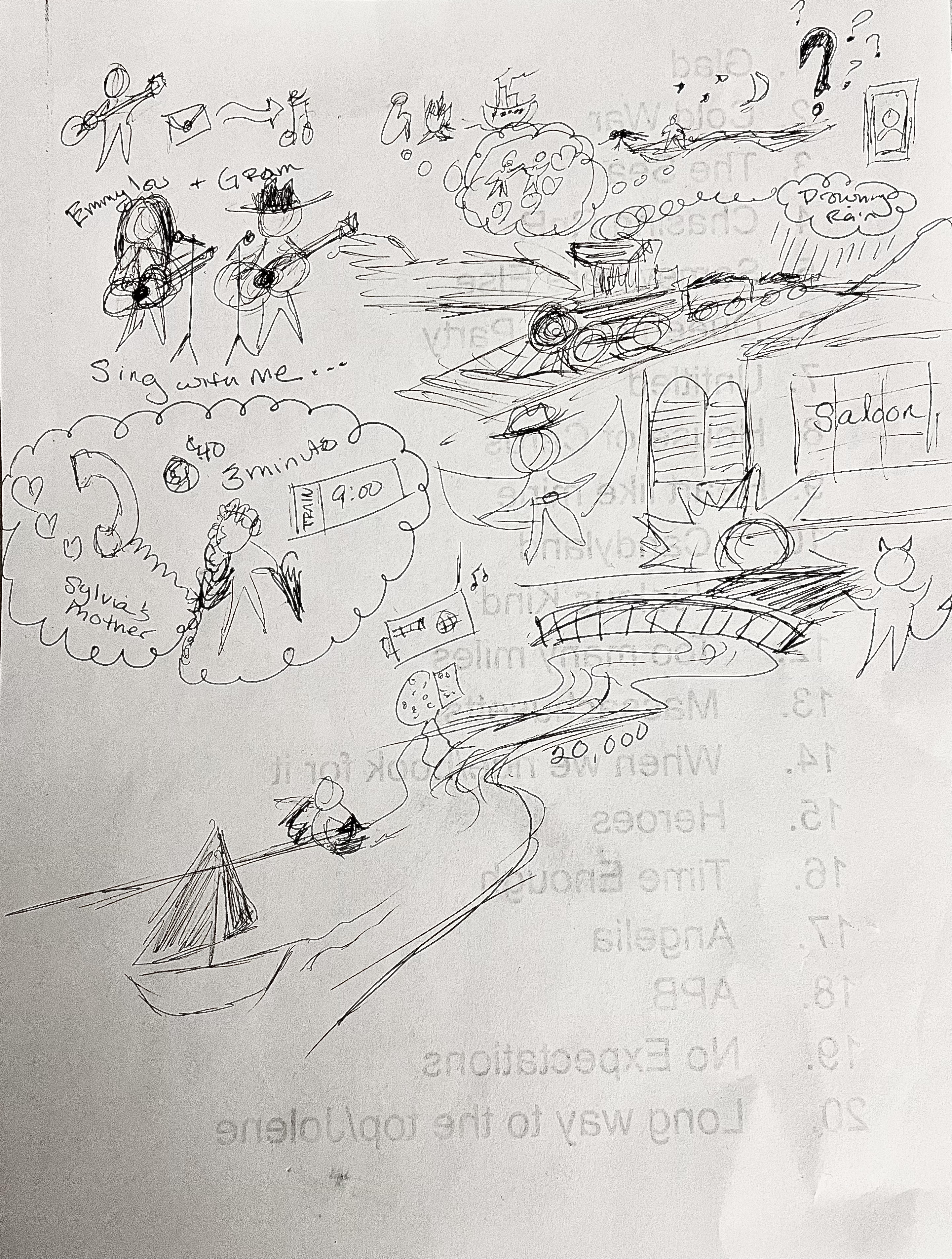 After we play, The Fallen Stars get up and play most of the songs on Bobbo's CD, "October". They're amazing, as is usual with them. It's an interesting performance too, because Bobbo's new CD is all him and one guitar and an E-Bow so the arrangements are pretty stripped down. This show he had Tracy and Matt with him on bass and drums, so the songs are arranged a little differently--a lot more rock and roll. It's cool to hear that new take on them. (By the way, if you haven't gotten Bobbo's new album "October" you really need to get a copy. It's gorgeous.)
The show ends around ten and we hang around a bit saying hi to everyone. But we have to go soon. We have a show on Friday that is a ways away. We have decided that rather than get up early and drive all day and then try to perform, we're going to drive to my dad's tonight, which is kind of a halfway point, get some sleep, and then drive the rest of the way tomorrow. This fits our natural sleep patterns better--we're both more night owls than early birds. We head home, pack up our PA, and then hit the road, hopped up on some caffeine.
At some point we stop at a truck stop Denny's for pancakes and coffee. Aside from us, the waitress and the cook are the only people there. The waitress is straight out of a 50's diner; an older lady who calls us "sweetheart" and "hon" and keeps our coffee cups full without us even asking. We get to my dad's so late it might as well be called early and get about five hours of sleep before we wake up to eat breakfast and get back on the road.
We drive up and up and up the mountains on I-80 through Donner Pass. The roads are clear, but you can tell it's been snowing a lot recently. The piles of dirty plowed snow on the sides of the road are taller than I am by a lot.
We get Quincy somewhere between three or four pm. We grab an early dinner of fish and chips at a brewery and then go to the Drunk Brush to unload and set up. We love playing this place. The people are so nice, they always have made us feel at home, and they have a really nice room for us to stay upstairs. (It's always the best when they put you up and you don't have to drive home after a long gig that's far from home).
While we're setting up the PA a woman tells us we need more light and brings some twinkle lights from her car and sets them around us. It does help; the corner we are in is kind of dark.
This is a long gig and we play a lot more covers than normal. It's just that kind of night. There's a lot of regulars; I even recognize some faces from last time we played here and they remember us and it's a nice feeling. The bar is noisy, but again, people are listening and clapping and getting really into. We even get one person line dancing when we play some Dwight Yoakam. (Is it line dancing if it's only one person? I don't know, but I know the steps are a line dance, so I guess it counts). Ron gets a tip specifically for his harmonica playing even though his G Harp is on its last legs. We need to buy another one before our next show.
When the show is over and we break down the PA, we both realize we are starving. The bar has given us an amazing bottle of Zinfandel to take up to our room, but we didn't really eat much of our dinner (the food was good, just nerves) and playing a three-hour show is a lot of work and takes a lot of energy out of you. But it's almost eleven and nothing is open except the Safeway. (My one real problem with small towns is that they do not cater to my late-night lifestyle!) Ron makes a mad dash to the grocery store and comes back with some sandwiches and chips. It's not the pizza that I am suddenly very much in the mood for, but it is food and it's good and that's good enough for me.
When we wake up on Saturday morning, it hasn't snowed in Quincy, but the roads we need to take home are snowed over. They are being plowed but chains are required and driving in chains is miserable. Ron and I are not snow birds. I love the way snow looks, I don't even mind the cold, but I don't want to drive in it. We wait it out until noon and while we see the roads getting clearer and chain controls gradually going away according to the CHP, we decide to go a longer way home that won't take us through the pass. It adds an hour to the trip but takes about a year's worth of anxiety off of my life.
We get go to a cute café and split an order of eggs, bacon, and French toast with poppy seeds for breakfast/lunch. The food is fantastic. Then we drive for a few hours and get to my dad's just in time for family dinner with all my brothers and sisters and most of my nieces and nephews. It's noisy and chaotic and fun. But also, I want to sleep. Pretty much the second the last family member leaves, I'm in my pajamas and ready for bed. It's just been a long few days.
Sunday morning we get up and have breakfast with my dad and grandfather and my sister and my three youngest nieces and nephews and then we head out on the road home. It's a smooth journey, but boy it is lucky for me and Ron that we both like road trips, because even with that we are both about done with being in the car. We make it home and kind of crash once everything is unloaded. 
This is the kind of weekend that makes people go "Why would you do that? It's crazy." But I have no regrets. I'd rather make music than do pretty much anything else and if I have to sacrifice some sleep to do it, it's worth it for me.