It's a few days late, but here's our recap of this weekend's trip! 
Friday, May 20 
We plan to leave for my dad's house in the morning, but first we have to pack the car. I drive a Prius C, which is the tiniest Prius you can have, so it's a bit of a challenge to fit three guitars, a PA, cables, mic stands, speaker stands, guitar stand, and all the other STUFF you have to bring along to make a show happen.* We've done this enough that we're pretty good at it, but this is the first time we've had to bring overnight bags, so there's another layer of difficulty. But Ron and I love a good puzzle and between his excellent spatial reasoning and my mad Tetris skills, we manage to pack and get on the road only a little later than we planned to. 
I've made the drive up Highway 99 approximately 1000 times. We play "Streets of Bakersfield" as we pass Buck Owens' Crystal Palace, we stop at Bravo Farms Cheese Factory to stretch our legs, we talk about songwriting as farmland rolls past us. The benefit of driving during the day is that the silage smell is usually better than at night. 
We get to my dad's house just in time for dinner. My brothers have brought their kids, so we have a full house, even though the kids only account for half my nieces and nephews. Four small children always somehow manage to seem like twenty. We have kebabs and rice for dinner and ice cream and watermelon for dessert. 
Ron and I want to run a few things before our show tomorrow, so after my brothers take their respective kids home, my dad gets a little bit of a private concert. (Although listening to rehearsal isn't always super entertaining, what with all the stopping and starting and nitpicking about tempos and running lead breaks three or four times. But he seems to enjoy it). We unload the important things from the car (because the first rule of being a musician is "Don't leave your gear in the car" and head to bed early-ish, because we know tomorrow is going to be a long day. 
Saturday, May 21 
We wake up and have pancakes with my dad. I introduce him to the show "The Good Place" which is one of my favorite things I've watched in the past few years (and something I highly recommend if you haven't watched it). We load the car and start the drive into Quincy. 
It's about a four hour drive. Once we start heading into the hills on Highway 70 the drive gets really pretty. We pass through a bunch of small towns, a lot of them founded around the time of the gold rush. Once we get through Butte Valley, I realize we probably should have stopped for lunch there, because it's almost 2pm, we're about 2 hours from Quincy, and the map is telling me there isn't much else on the way. But we don't want to turn around, so we figure that worst case scenario we'll eat before the show somewhere in Quincy. 
But after about an hour we pass a tiny cafe called The Rock House on the side of the road. We decide to stop. The sign says "Open 8 to 3 or sometimes later" so we pop our heads in and ask. The owner tells us that yes, today is one of the days they're open later. They're having live music tonight. We tell her we're playing too, up in Quincy. She tells me to let her know when we're in the area next and exchange information. She tells us a little bit about the cafe and how she and her husband lost their house in the Camp Fire a few years ago. Part of the cafe also burned, but they were lucky and didn't lose the whole thing. 
We order a pizza because I don't really want a sandwich and it's surprisingly good. After the cafe, the road starts following the Feather River. It's a beautiful drive, but it's narrow and in a lot of parts there's a pretty steep drop into the river on the side of the road and not much shoulder. We listen to Paul Kelly and wind our way along the river. We can see evidence of past wildfires up on the hills, but amazingly a lot of the partially charred trees are still alive. 
Quincy is a cute little town with a bigger art scene than you would expect in somewhere so out of the way. We get to The Drunk Brush Wine Bar at a little after 5. Kaline, the bartender, is super helpful as we start to set up. We're playing outside and the best part about that, aside from the beautiful weather, is that we can pull the car right up to the patio and unload with minimal carrying. (Carrying gear is the worst part of this job). 
The audience is apparently a smaller crowd than usual; there's a class reunion happening and a kids production of Peter Pan Junior drawing people away. But, as someone smart once told me, you play for the audience you have. And the people there are engaged and seem to like us. It wasn't our strongest night musically (but not in a "we were bad" way, just in a "I know we've played better than this before" way) and people even get up and dance to some of our songs, which is surprising. We even sell a few CDs. 
The worst part of the night is that I forgot to bring bug spray and I get about fifteen new mosquito bites. I can see them landing on me and biting me, but I'm playing guitar so I can't swat them off. (Mosquitos love me. If we're ever hanging out after dark and there are mosquitos around, you're welcome in advance, because they're going to bite me and leave you alone). 
We talk to a couple of folks who are also in a band and I try to explain what a Nashville guitar is to one of them. I don't think I do a very good job of it, but she plays it a little bit while we're on the break (with my permission) and she thinks it sounds cool. 
After we break down, Riccardo, the owner (who is wearing a fantastic Hawaiian shirt), brings us each a glass of wine and he tells us we should definitely come back. We chat and relax and suddenly it's midnight. We have a four-hour drive back home and definitely did not mean to stay this late. We decide to take the slightly longer road home because it's less windy and not on the side of a cliff. Country roads are dark and twenty extra minutes is worth the safer drive. We put on some Dan Tyminski and begin the drive back. We're both starving, so we eat leftover pizza. The car is really starting to look like a touring car, with a pizza box on the dashboard and empty water bottles. I fall asleep in the car by the time we hit Truckee. When we get home it's about 4:30 in the morning and we collapse into bed.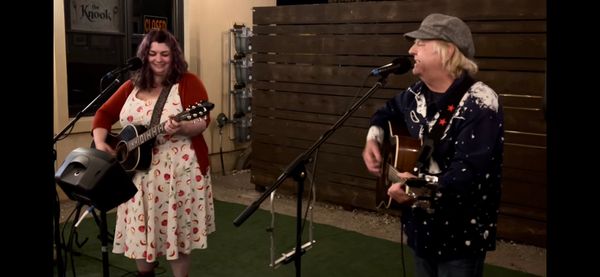 Playing at The Drunk Brush
Sunday, May 22 
I drag myself out of bed at about 9:30. My Dad has gone to mass, but he's left us donuts from We Donuts, which is a local shop we've been going to ever since I can remember. It's owned by a Korean couple and it never closes and it has the best donuts. It's my weekend nostalgia. Ron gets up and we're running late and we're tired. We get coffee to wake us up and drive over to the house we're playing at for Modesto Porchfest. 
Our hosts are Shy and her husband Nathan and their adorable daughter Gemma. They're super welcoming and helpful. Shy has an adorable yard, with tons of shade, which is great because it's warm out. We set up and we're getting some weird PA buzzing noise that we can't get rid of. And of course we're running a little late and we're a little pressed for time. Tech problems never happen when you're early. We decide to live with it, but then Ron does one last thing to the PA and suddenly the problem is fixed. 
We get a pretty good crowd on the lawn, although to be fair a good number of them are my family (one of my brothers and sisters-in-law, both of my sisters, my youngest sister's boyfriend, my dad, and various nieces and nephews). A friend from high school also comes out, and we haven't seen each other in years, so that was really cool. But we also get strangers stopping and listening. We play for an hour and half without taking a break, because time just kind of goes, as it does when you're having fun. 
We pack up the car and go back to my dad's house where we have cake for my sister's birthday. The littlest kids become chocolate monsters and run around in the backyard until naptime. We clean out the car and then we head back home from Modesto. It's been a long weekend, but a really, really good one.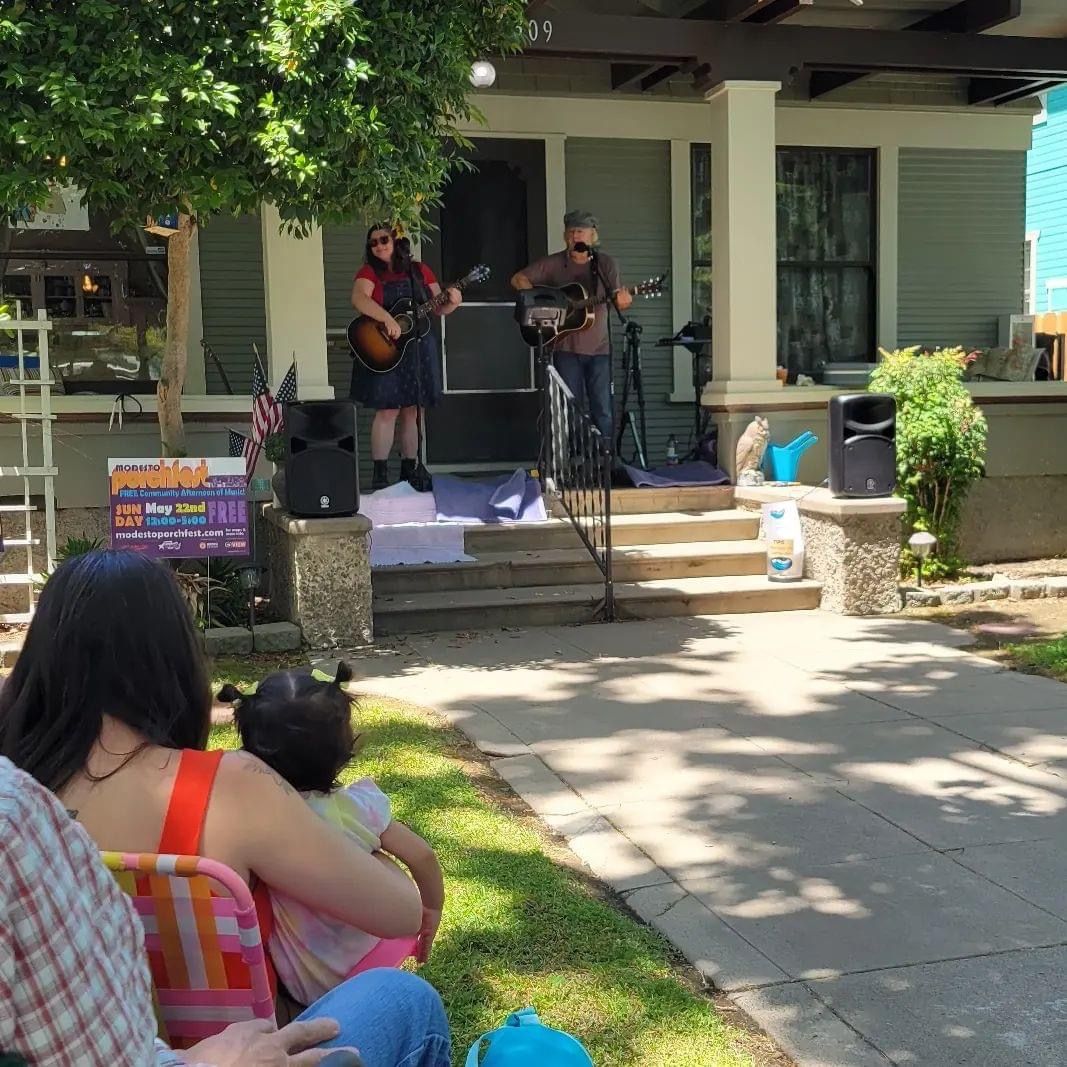 Playing at Porchfest
*I am not complaining about my car's size. We drove a lot this weekend–from our house to Modesto (347 miles), Modesto to Quincy (222 miles), Quincy to Modesto (245 miles–we took the longer way home because it was less winding and less on the side of hill close to a river that would be a watery grave if we misjudged a turn in the dark), and then Modesto to home (347 miles). For those of you playing at home, that's 1161 miles. Or a third of the way across the United States. I am glad for the excellent gas mileage I get.