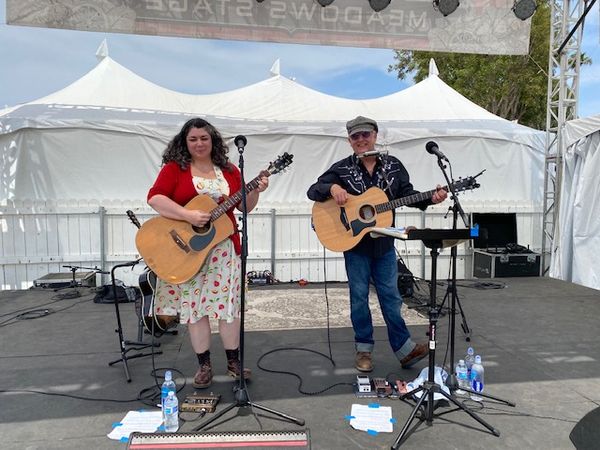 We've been slowly making our way back into performing.  We went to a few open mics in the past month or so, and then we played a showcase at Campus JAX and a show at the Beach Hut that Chris Cruz put together with a bunch of bands and musicians.  We did a few livestreams and pre-recorded radio shows during the pandemic.  Those are challenging in their own way, because you're essentially playing into the void. People are watching and you can interact in the comments, but it's really not the same as having an audience right there, where you kind of feed off each other's energy.  But playing live with an audience after so much time not doing it is odd too.  You feel rusty and out of practice, like an athlete coming back from an injury after missing a season.  Everything feels stiff and tentative.
That's not to say that those gigs went badly.  I actually felt good about them when they were over and it was so so so amazing to see other musicians playing.  I've been missing live music, but I hadn't realized just how much until I was back hearing it.
On Saturday we played at the Orange County Fair in the afternoon and then, because our manager does not pay attention (it's me...I'm the manager), we played with The Fallen Stars at the Beach Hut in the evening.  We've never played at the Fair before and we had such a good time.  We got there early to avoid stress and unloaded our gear and got it all moved over to the stage, with the help of the Fair staff.  We had been to see Bobbo and The Fallen Stars play last weekend on the same stage, and I was happy to see that the same stage manager, JD, and sound technician, Noelle, were working this weekend.  They had done an awesome job last weekend and did not disappoint this weekend.  They made everything really easy and Noelle made us sound great.
The band that played before us was called Ganda.  They're a five-piece reggae band and they were a ton of fun to listen to.  It was almost enough to distract me from nerves.  I don't think I'll ever not be nervous going on stage.  When they were done, we got our stuff onstage and did a sound check and then we were off.  It took a minute for me to settle in, but once I did, things felt comfortable.  People stopped to sit and listen and really seemed to be enjoying what we did.  Lots of smiling faces in the audience.  There's a song I play in drop D tuning and I did the thing that always seems to happen-I forgot to retune the low E string back up to an E, even though I had put a reminder to myself in huge letters on the set list.  I realized the mistake about halfway through the song and was able to sort of fix it by a combination of muting the low E string and playing the chords differently.  It was less than ideal, but far from a disaster and aside from that everything went really well.
After the show, we had a few people buy CDs and actually wanted them signed.  One guy told me it was his 50th wedding anniversary--he and his wife had gotten married in 1971 right after he came home from Vietnam, so we signed a "Happy Anniversary" on his CD.  It's always cool to hear things like that and to know that you were part of making someone happy on a day that's special to them.  I went and bought us ridiculous milkshakes (the kind topped with basically an entire second dessert) while Ron loaded our gear onto the cart and we headed off to our second gig of the day.  I felt bad that we couldn't stick around and watch Tall as Men play, but we had to get going.
It was a bit of a difficult transition between the fair and the Beach Hut.  The energy of a fair, where you're next to a beer tent and there are a lot of people around and constant movement, is very different than the energy of a small room where people are sitting and listening.  It's not bad or good, things just feel different and it's hard to move from one headspace to the other. 
I was kind of keyed up and exhausted at the same time, so it took me a bit longer to settle into a groove than at the Fair, but I got there eventually.  There weren't many people there, but it was an enthusiastic audience who really seemed to enjoy what we were doing.  We mostly played the same set as at the Fair, since we knew there was no overlap in audience, with a few substitutions and additions.  The Fallen Stars joined us for "A Song For You," which made it extra awesome.  I love the way Tracy plays bass on that song and Bobbo did a really beautiful slide solo.  Then we got to watch Bobbo and Tracy do a great set of music.  Afterward we talked more about our proposed super group (and Tracy finally found a name: Starbird Falls), had an impromptu Jayhawks singalong, and split a lemon cookie, which was the best way to end the evening.
OC FAIR SETLIST:
Get Outta Town
Jenny Lynn (won't you come home)
Lie To Me
Water's Edge
Emmylou
Alright Now
Today I Started Loving You Again
Return of the Grievous Angel
BEACH HUT SETLIST:
Get Outta Town 
Jenny Lynn (won't you come home) 
Lie To Me 
Water's Edge
Willin'
A Song for You
Alright Now
Today I Started Loving You Again
Return of the Grievous Angel
Gone Gone Gone